PCIC Contractor Insurance Program
For larger contractors and hard to place risks such as home builders, roofers, framers, and paper contractors.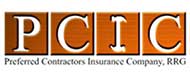 View all acceptable contractors and subcontractors What is a risk retention group? Instant Rate Available
---
PCIC PROGRAM HIGHLIGHTS
---
Prior Claims/Losses Accepted*
Condo and HOA Work Accepted
Tract Work Acceptable
New Ventures Accepted
Deductible Credits Available
Lapse in Coverage Accepted
Monthly Payment Plans
Rates Based on Gross Receipts
Same Day Policy Number
Online Rating
Occurrence Form
Risk Retention Group
Multi State Coverage
*per Underwriter approval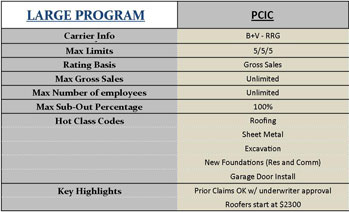 Compare All Preferred Contractors Insurance Company Risk Retention Group, LLC. Programs
Click Here
20% Minimum Earned Premium
New residential construction is acceptable for General Contractors and Artisans
Prior Losses OK (subject to underwriting approval)
No limit on percentage of subcontracted work
51% of work must be performed in domiciled state
Work on Tract Homes, Condos, and Town homes OK (subject to underwriting approval)
New Ventures and Lapses in Coverage Accepted
Custom tailored policies available
ADDITIONAL COVERAGE OPTIONS / ENDORSEMENTS
Blanket Per Project Aggregate
Blanket Additional Insured – Completed Operations / CG2037 Equivalent
Blanket Your Work – 1185 Equivalent (Commercial Work Only)
Blanket Waiver of Subrogation
Blanket Primary/Non-Contributory Wording

Buildings and Structures Exceeding 3 Stories (Exterior)
Schools & Recreation Facilities
Heating Devices
Hospital Work
Additional Insured Endorsements for HOAs
TRADE CONTRACTORS WELCOME
Over 50 Subcontractor Classes Accepted
General Contractor (New Residential)
General Contractor (New Commercial)
Remodel Contractor (Residential)
Remodel Contractor (Commercial)
Air Conditioning System Installation
Appliance and Accessories Installation
Carpentry (Framing)
Carpentry (Interior/Woodwork/Shop)
Carpet Cleaning
Cleaning (Outside Building)
Concrete (Flat)
Debris Removal
Door & Window Installation
Drilling
Drywall
Electrical
Equipment Rental (with operator)
Excavation
Fencing
Floor Covering Installation
Garage Door Installation
Glass Installation/Glazing
Grading
Guniting
Handyman/NOC Labor
HVAC

Insulation
Janitorial
Landscape
Masonry
Metal Erection (Decorative)
Metal Erection (Structural)
Painting (Interior)
Painting (Exterior)
Plastering/Stucco
Plumbing (Residential)
Plumbing (Commercial)
Roofing (New Residential)
Roofing (New Commercial)
Roofing (Residential Repair)
Roofing (Commercial Repair)
Sandblasting
Septic Tank (Service, Repair, Installation)
Sewer Mains
Sheet Metal
Siding and Decking
Street/Road Paving (Commercial)
Swimming Pool Cleaning
Swimming Pool Installation
Tile and Marble Installation
Tree Trimmer
Welding
PREFERRED CONTRACTORS QUOTE & BIND PROCESS
Our user-friendly online system allows you to quote and apply all in one place. Your application and policy offer will be emailed to you using Adobe EchoSign.
EchoSign is the easiest online signing experience in the industry – so you'll get your policy bound quickly. You'll receive an email with a link to your policy offer which is loaded into a web browser, so no downloads or software installations are needed! Then, review and e-sign instantly online or offline with a mouse, stylus or by typing your name. If you'd prefer, we can still use the good'ol fashioned print and fax!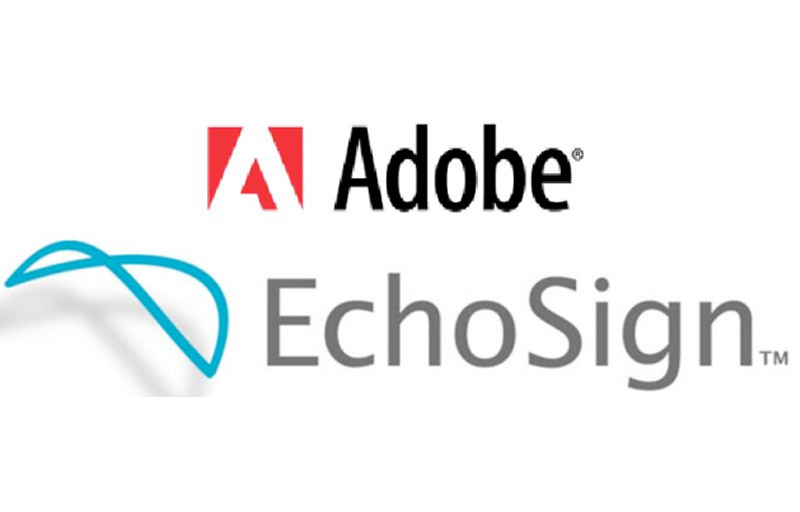 PCIC PROGRAM ARTICLES & UPDATES
No Results Found
The page you requested could not be found. Try refining your search, or use the navigation above to locate the post.